ORGANIC GRASS-FINISHED PRODUCTION SCHOOL
February 23 & 24, 2007
Sacramento, California Holiday Inn Sacramento Northeast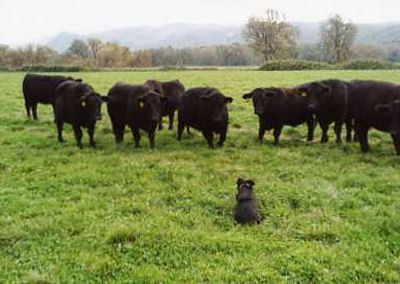 If Getting The Absolute Highest Price Is Important To You, Then You Need To Learn How To Produce It Organically...
Here's Where You Can Do That!
The bloom is off the "Natural" products' rose. Even Wal-Mart wants to go organic! If you want the absolute highest prices for your production, you will want to be organic as well.
Today, Certified Organic grassfed products sell for at least 50% higher than "Natural!"
If you are like most Stockman Grass Farmer readers, you are probably 99% of the way to being Certified Organic, but some particular pasture production or animal health problem is holding you back. This school is designed to answer your questions about organic certification and to ease those nagging doubts that are keeping you from getting the highest prices for your production.
Beef, sheep, dairy and bison producers will all find this school extremely helpful as it will concentrate on animal health problems, weed control and soil building techniques that are common to all ruminant enterprises.
ORGANIC GRASS PRODUCTION IS MUCH EASIER THAN YOU THINK!
Featuring:
Grazier/Educator, Dr. Anibal Pordomingo of Argentina
Organic veterinarians, Dr. Ann Wells and Dr. William Winter
Organic Pasture Weed Control Specialist, Kathy Voth
Organic Marketing Co-ordinator, Angela Jackson-Pridie
And, Stockman Grass Farmer Editor, Allan Nation
ORGANIC TOPICS TO BE COVERED INCLUDE:
Soil Nitrogen Building and Conservation
Organic Carbohydrate/Protein Balancing
Fly Control
Internal and External Parasite Control
Animal Health Protocols
Pasture Weed Control
Legume Bloat Control
Pasture Fertilization Without Compost
Minimum Tillage with No Chemicals
Approach to Shipping Fever Complex
Approach to Mastitis and Pink Eye
Markets for Grassfed Products
Sourcing of Hay and Grassfed Approved Feed Byproducts
Feeder Cattle Marketing
PLUS,
How to Teach Your Cattle to Love Eating Pasture Thistles and Noxious Weeds!
This presentation will include brand-new research on grazing thistles and noxious weeds.
This school includes a networking reception with hors d'oeuvres on Friday night. Meet our speakers and your fellow graziers face to face. Most people find this suffices for the evening meal. The school starts at 8:30 a.m. Friday and concludes at 5:30 p.m. on Saturday.
The price for this school is $650. However, we will hold your seat for a deposit of only $150. Our Organic Production School quickly sold out last year, and space is extremely limited.
We have arranged a special rate of $94 a night with the Holiday Inn Sacramento Northeast, where the conference will be held, for rooms booked before February 1, 2007. Call the hotel directly at 916-338-5800. Be sure to tell them you are with the Stockman Grass Farmer group.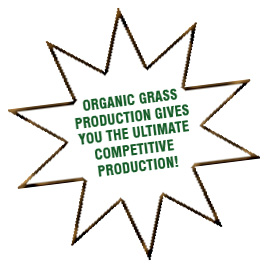 ---
$150.00 Register and Reserve Space

$650.00 Register and Pay in Full for School

$500.00 Pay Balance Due for School

---
MAIL IN/FAX FORM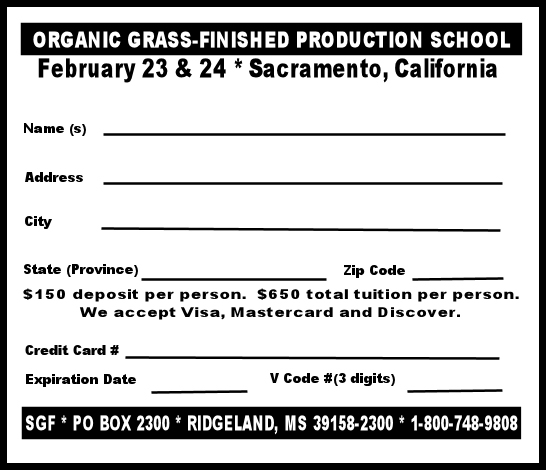 ---
Copyright © 2005 Stockmangrassfarmer All rights reserved.
---